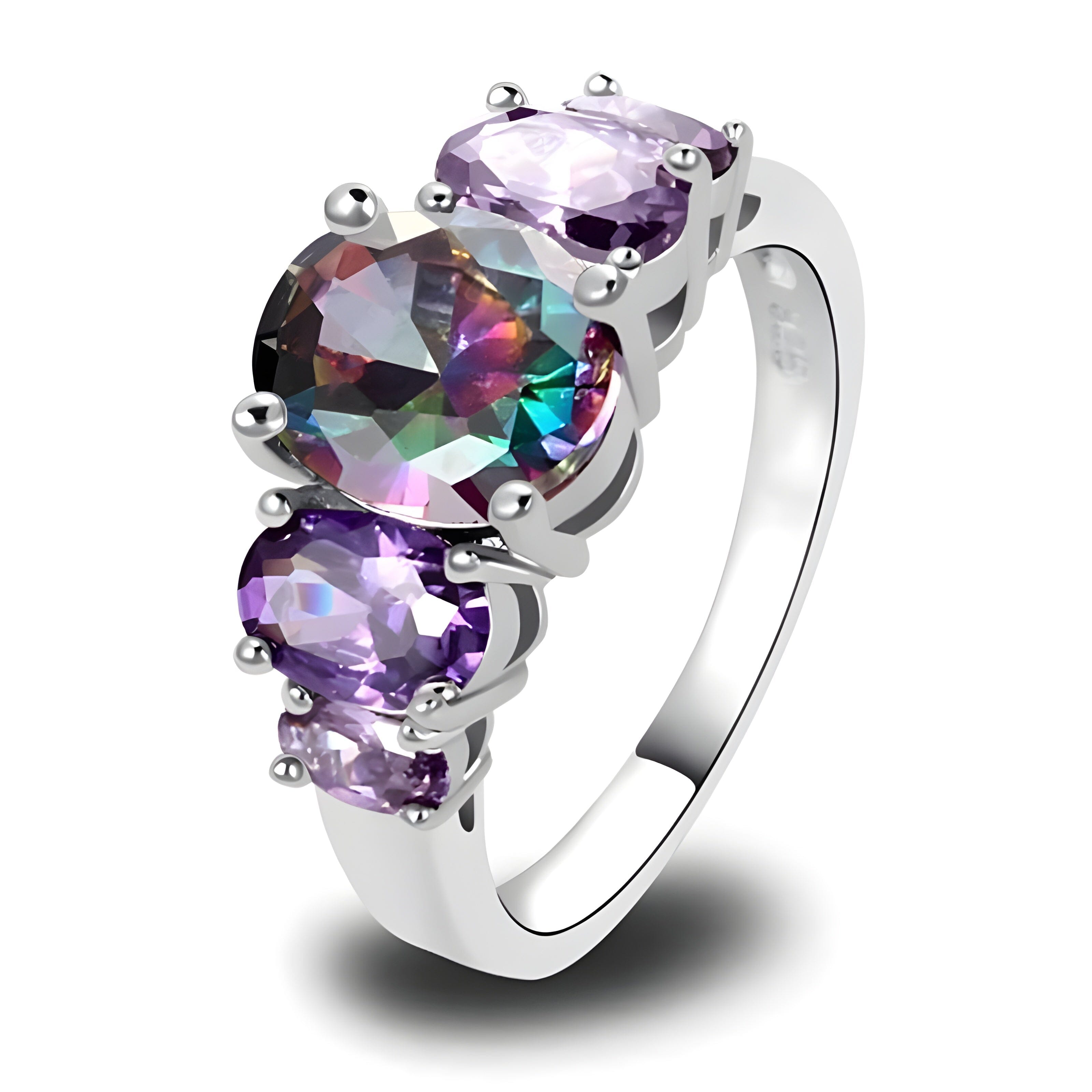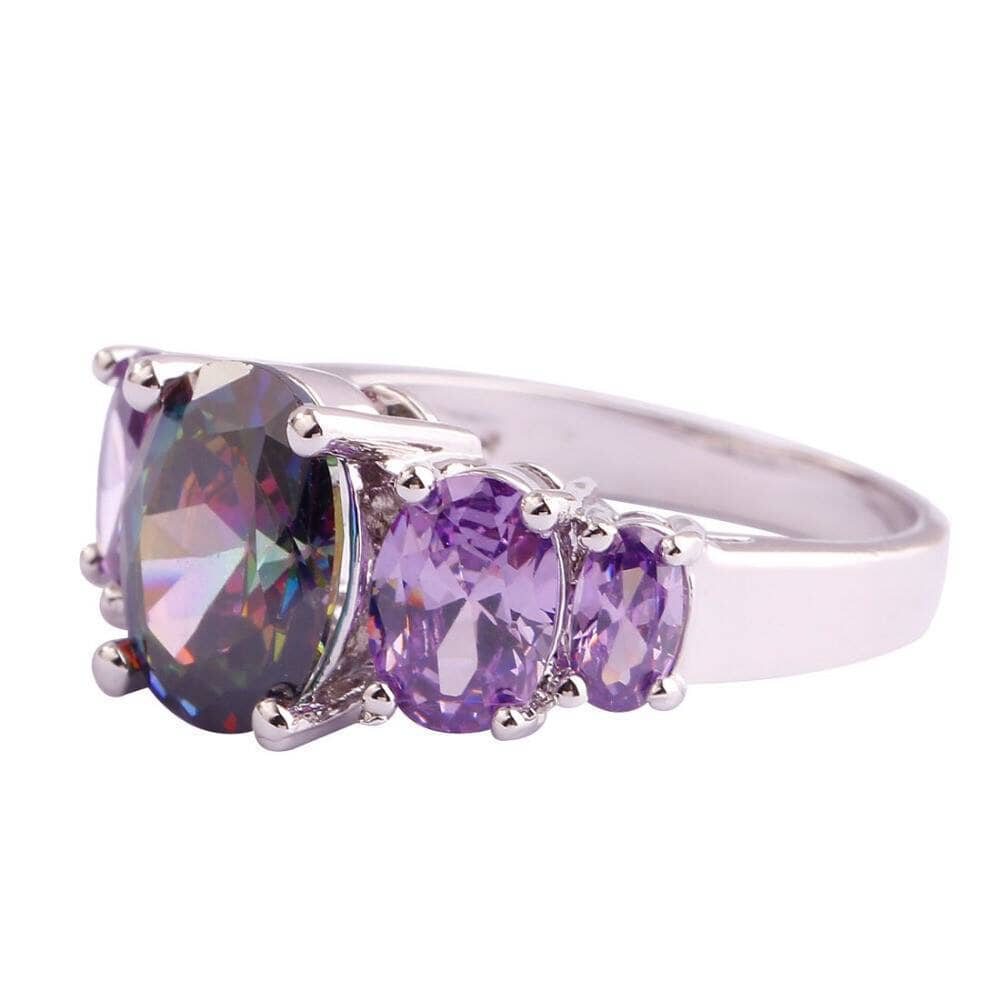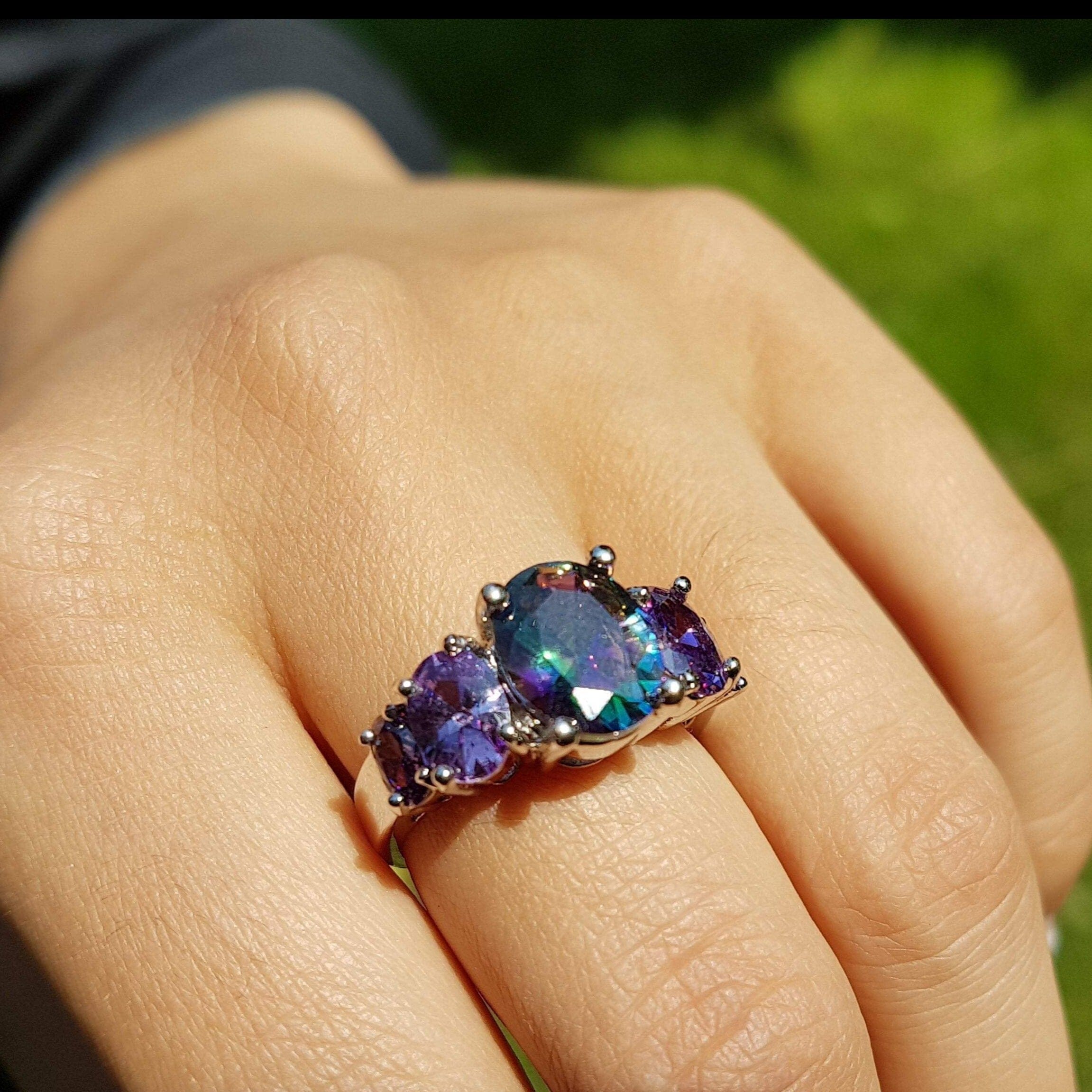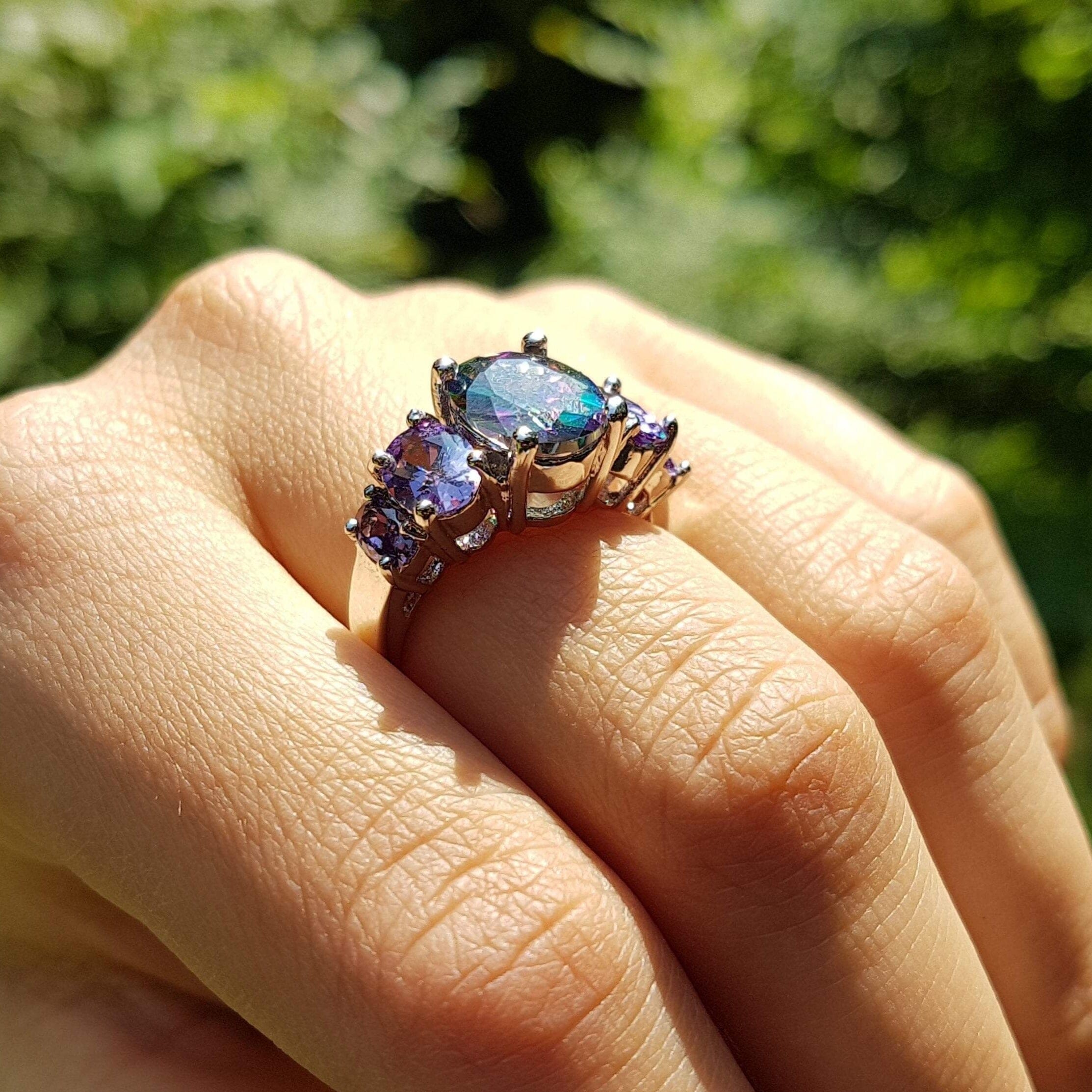 Mystic Topaz & Amethyst 5-Stone Ring - 925 Sterling Silver
⚡ Hurry up! Only pieces left in stock

Rated 4.6/5 By 100k+ Shoppers
When using our healing crystals products, you can expect major benefits among:
♦ Increased self-love and self-esteem
♦ Better relationships with loved ones
♦ Improved intuition and spiritual connection
Description

Our Mystic Topaz 5 Stones Silver Plated Ring is the perfect blend of elegance and spirituality. This beautiful piece features five sparkling mystic topaz gemstones set in a sleek silver plated band. The unique coloring of the topaz stones ranges from soft shades of blue to deep purple hues, making each ring one-of-a-kind. The mystic topaz is believed to have powerful healing properties, making this ring not only a fashion statement but a spiritual accessory as well. This ring is affordably priced, making it an excellent choice for those seeking high-quality gemstone jewelry at an accessible cost. Whether you're looking for a special gift for a loved one or a personal indulgence, this stunning silver blue topaz ring is sure to please.

The focal point of the ring is a dazzling mystic topaz, known for its iridescent properties that change color depending on the lighting. The secondary stones are amethysts, adding a pop of purple to the overall design. The mystic topaz and amethysts are set on a rock crystal quartz band which creates a perfect contrast and gives a touch of elegance to the ring. This mystic quartz ring is a perfect addition to your mystic topaz ring collection. It's also a great gift idea and comes in a gift box. The ring is a perfect accessory for any casual outfit and adds a touch of elegance. We offer shipping options to make sure you receive your ring as soon as possible.

Mystical Characteristics of Rainbow Topaz

It helps the person to build a sturdy connection with his own spirituality, religion or trust. It also helps in opening the heart of all the people all around him.

The spiritual properties of this stone also depend upon the hue of it. For example, the green shade of Rainbow topaz protects the person from the negative vibes and also balances the depressing thoughts. The red Rainbow topaz promotes the trust of the wearer.

Main Stone: Mystic Topaz
4 Other Stones: Amethyst
Material: 925 Sterling Silver
Shipping Info

We are delighted to offer Free Worldwide Shipping on all our products, accompanied by a tracking number for every shipment. We want to ensure that you can easily monitor the progress of your order. Please keep in mind that due to items being sourced from various suppliers, there is a possibility of separate deliveries on different days. We kindly request your patience and understanding as we strive to deliver your items within a timeframe of 5-15 business days.
Returns & Refunds

You have 60 days from the delivery date to return/exchange your unused item for a full refund or shop coupon. If an item doesn't arrive or doesn't match the description, we'll reimburse the full cost, including shipping. Please refer to our Refund Policy for more details.
Transformative Power In Just 3 Simple Steps.

Step 1
Instantly Place Your Order
Easily add your desired items to the cart and proceed to a secure checkout process today.

Step 2
We Ship Within 24 Hours
Our dedicated warehouse team promptly handles your order, ensuring secure packaging and swift shipment to your address.

Step 3
Amplify the Healing Benefits
Immerse yourself in a vibrant and prosperous life by harnessing the profound energy of our exquisite healing crystals.