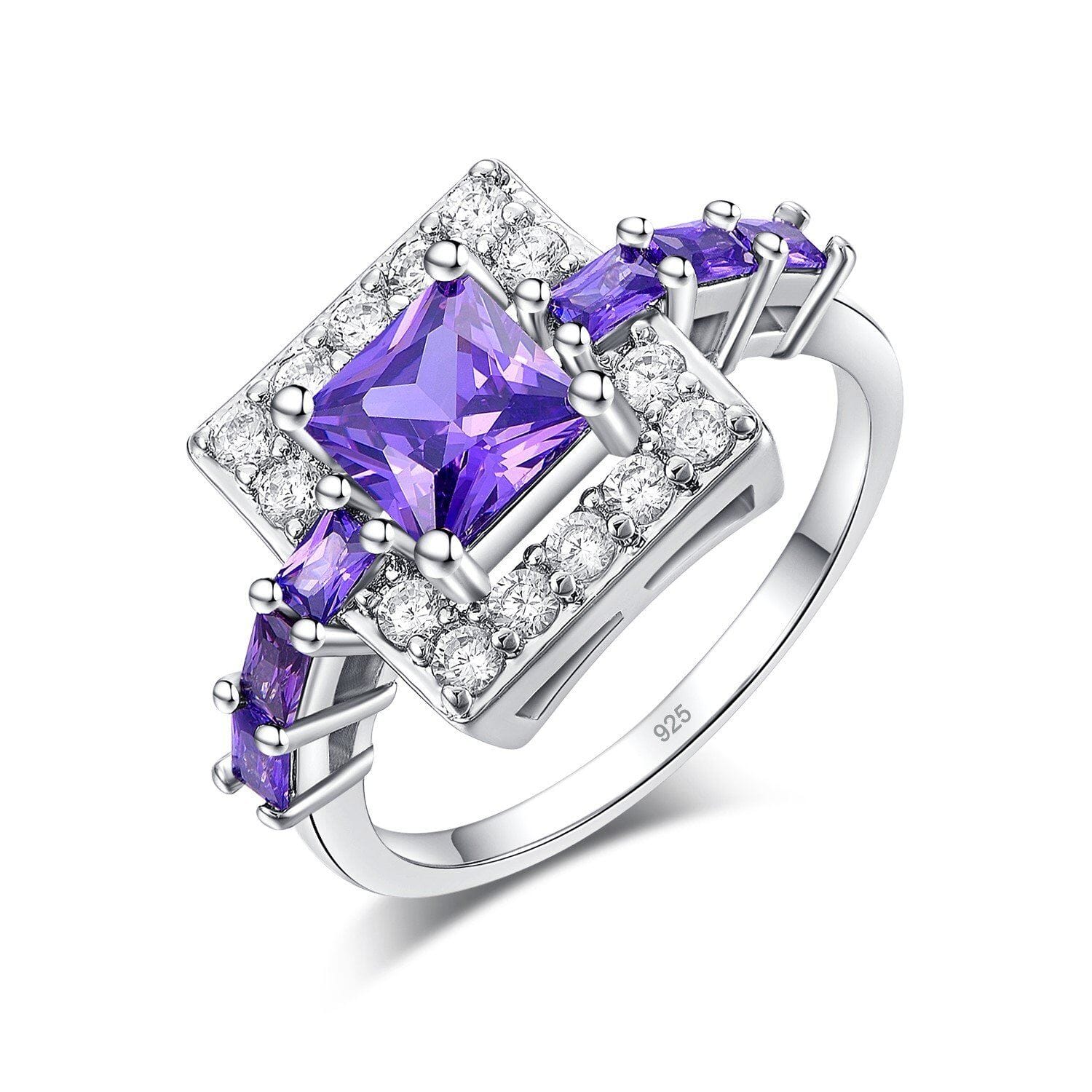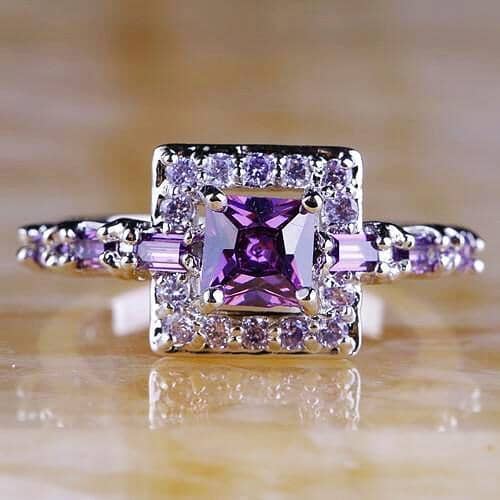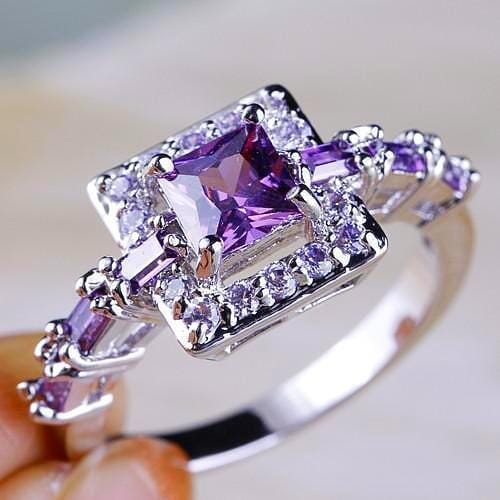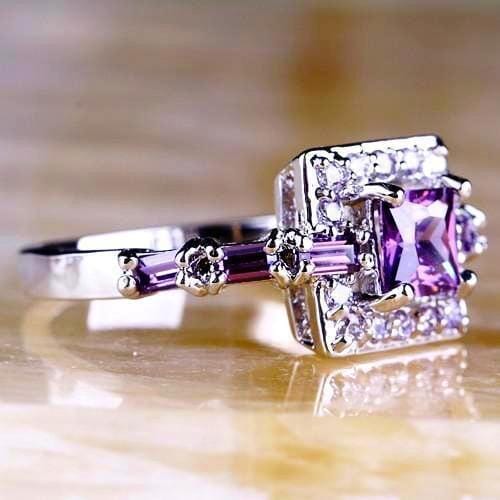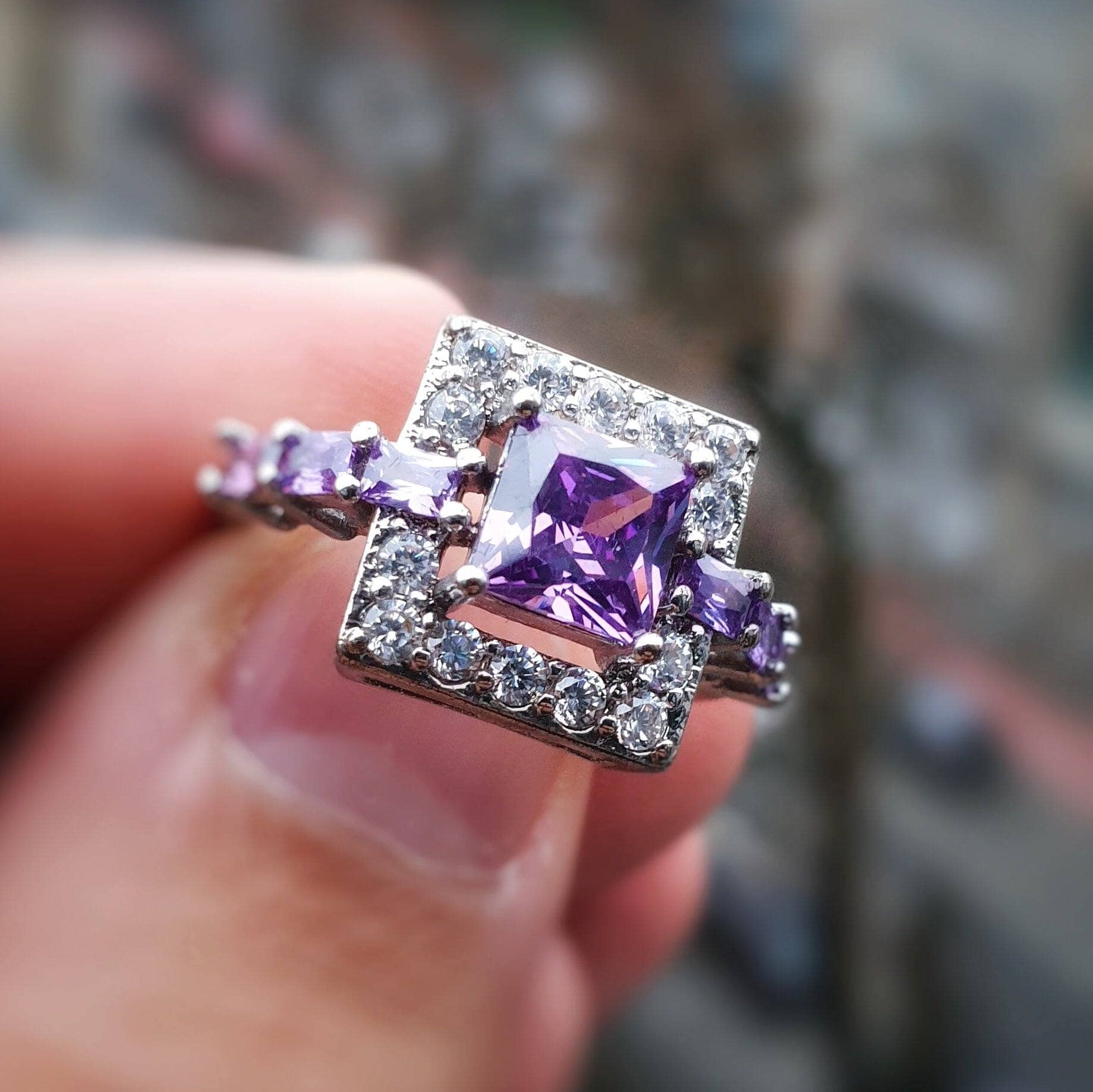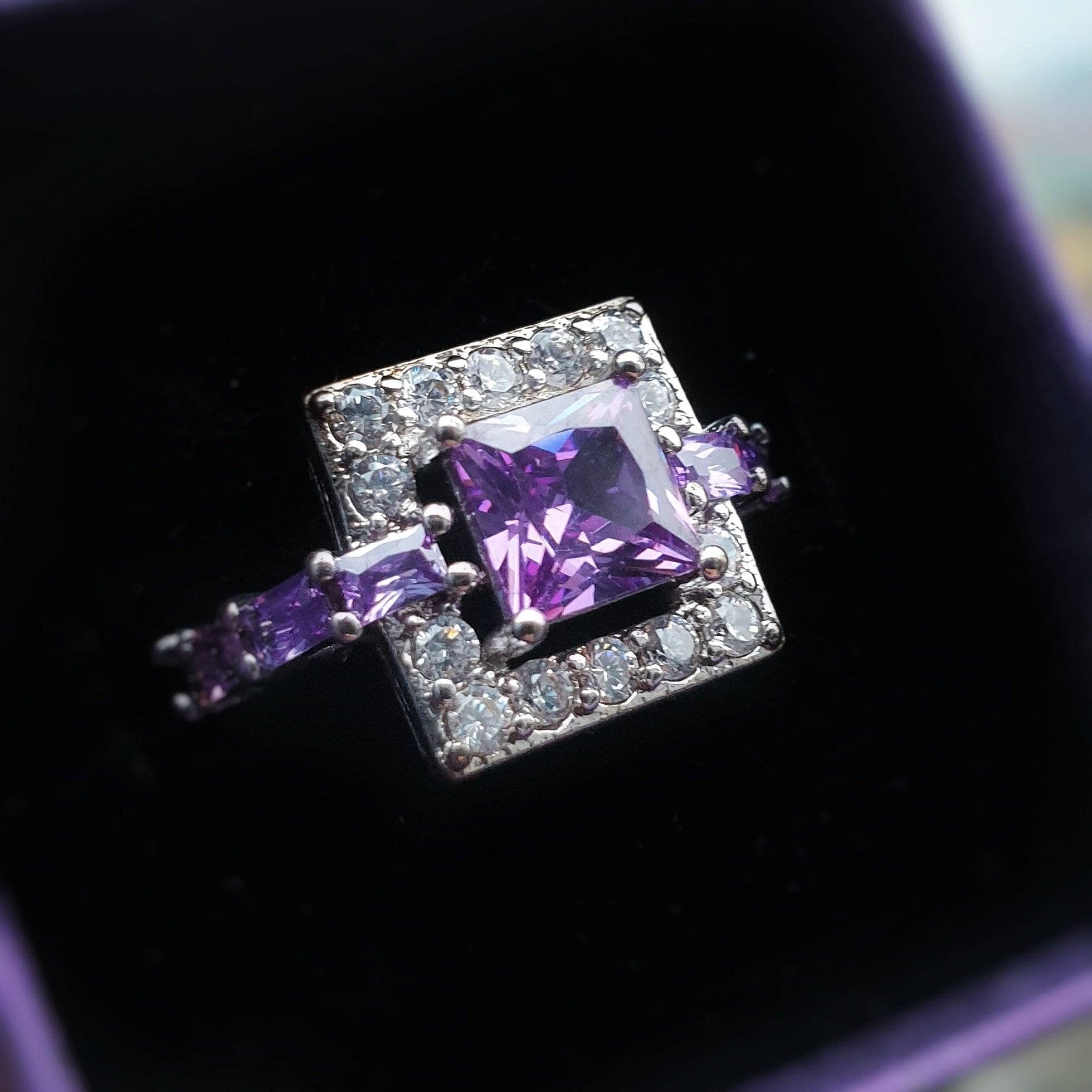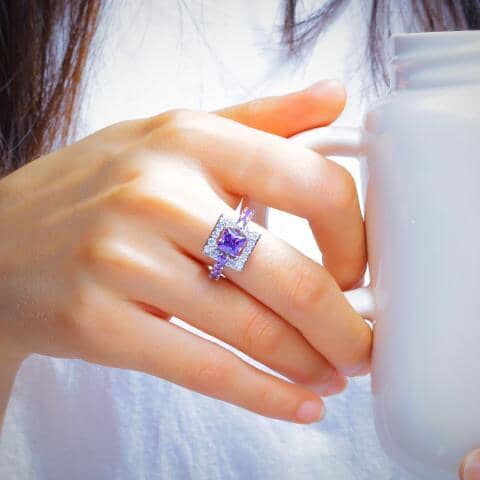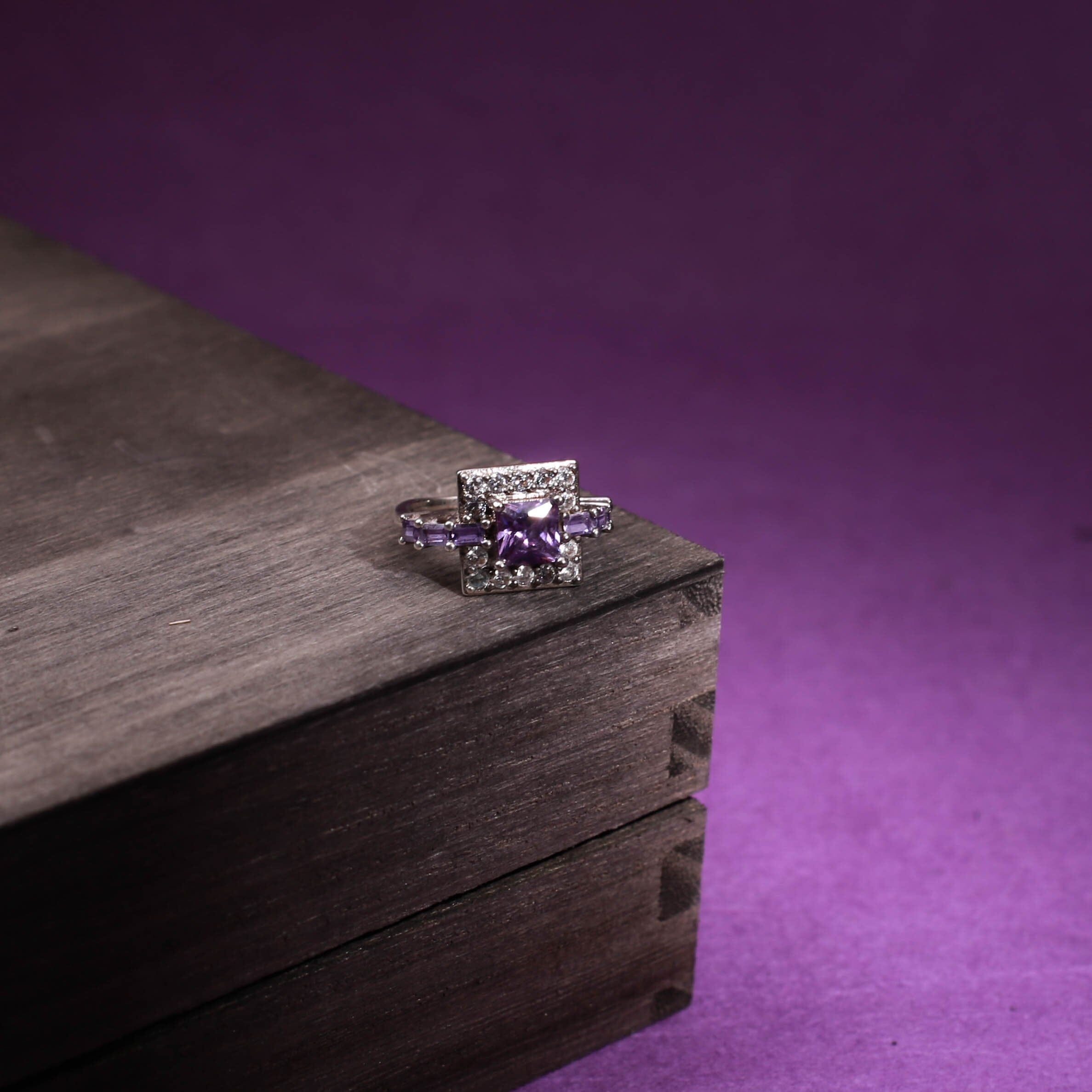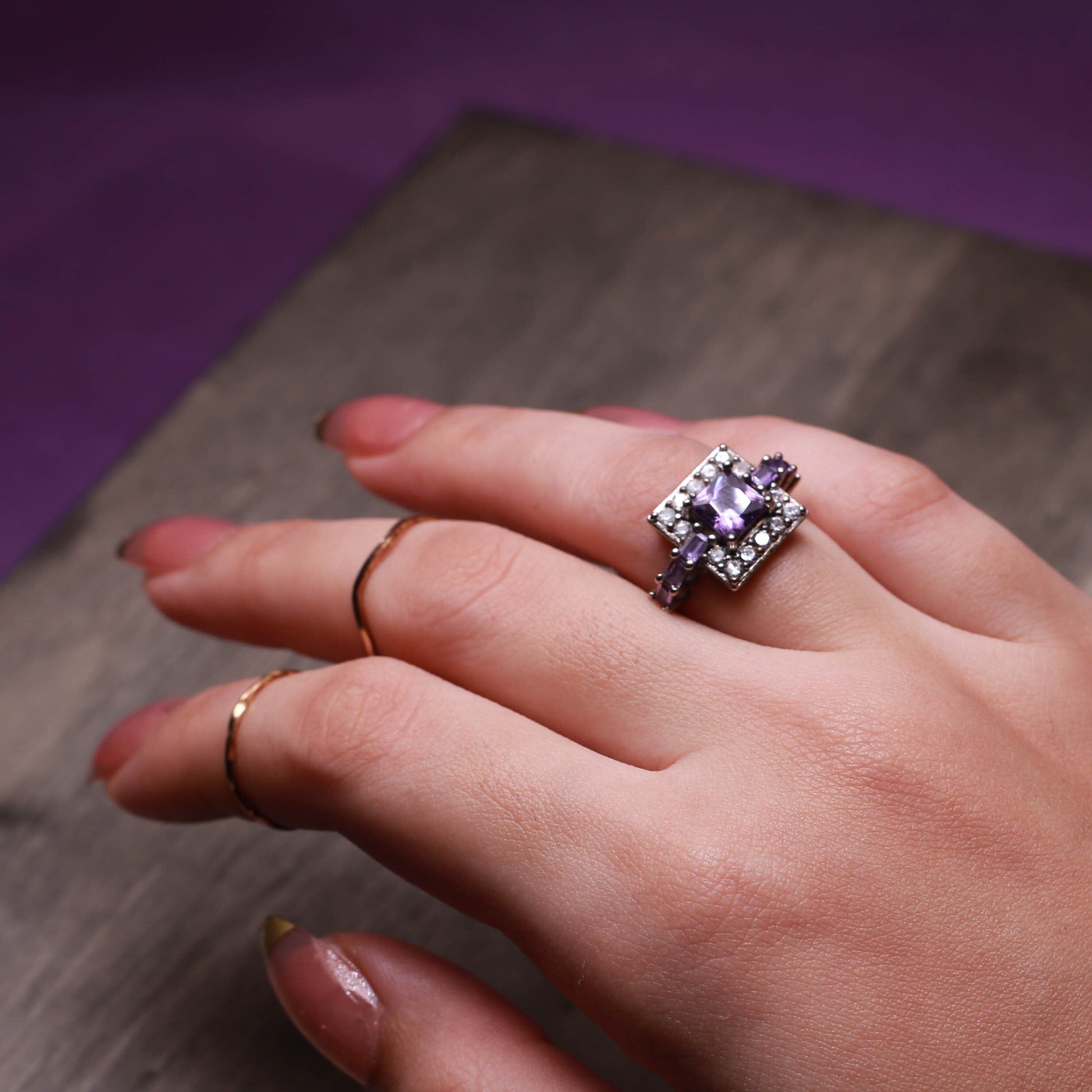 Amethyst Square Crystal Ring - Sterling Silver
$26.99
Regular price
$59.99
⚡ Hurry up! Only pieces left in stock

Rated 4.6/5 By 100k+ Shoppers
When using our healing crystals products, you can expect major benefits among:
♦ Increased self-love and self-esteem
♦ Better relationships with loved ones
♦ Improved intuition and spiritual connection
Description

This divine amethyst crystal ring is handmade by skilled artisans at AtPerry's Healing Crystals, making it a unique and exquisite piece of jewelry that you'll treasure for years to come. The stunning purple amethyst stone is surrounded by 21 white topaz stones that offer additional support and energy to the wearer. This ring is perfect for anyone who is looking for uplifting energy, support, and a touch of elegance.

Product Benefits:

Wearing an amethyst crystal ring can reveal one's destiny, traits, and powers while also providing protection with its superlative halo of crystal aura around the wearer.
Amethyst promotes intuition, grounding, and advanced mindful meditation techniques. It is an ideal stone for individuals feeling lonely or suffering from varying degrees of mental trouble such as depression and stress.
Amethyst is a de-addiction crystal and can help the wearer release repressed sorrows and negativity. It can also help in keeping evil thoughts and negativity away from the wearer through dream therapy.
This comforting healing crystal accelerates the wearer's spiritual experience and enlightenment, opens the mind to acceptance, forgiveness, and peace, and serves as a source of comfort for those grieving.

Additional Description and Benefits:

The amethyst stone is said to have healing powers that bring balance and peace to one's life. Its calming energy can help alleviate stress, soothe irritability, and dispel anger. The 21 white topaz stones that surround the amethyst stone add an extra layer of support and energy to this already powerful ring.

This amethyst crystal ring is a statement piece that can be worn on any finger, and its unique design makes it perfect for both casual and formal occasions. The silver-plated metal adds a touch of sophistication to the ring, making it a perfect gift for yourself or someone special.

Technical Details:

Item Type: Ring
Stones: Amethyst & White Topaz
Stone Quantity: 21 Stones
Metals Type: Silver
Ring Size: 5 - 11

Invest in this divine amethyst crystal ring today and experience the healing benefits of this beautiful stone!
Shipping Info

We are delighted to offer Free Worldwide Shipping on all our products, accompanied by a tracking number for every shipment. We want to ensure that you can easily monitor the progress of your order. Please keep in mind that due to items being sourced from various suppliers, there is a possibility of separate deliveries on different days. We kindly request your patience and understanding as we strive to deliver your items within a timeframe of 5-15 business days.
Returns & Refunds

You have 60 days from the delivery date to return/exchange your unused item for a full refund or shop coupon. If an item doesn't arrive or doesn't match the description, we'll reimburse the full cost, including shipping. Please refer to our Refund Policy for more details.
Transformative Power In Just 3 Simple Steps.

Step 1
Instantly Place Your Order
Easily add your desired items to the cart and proceed to a secure checkout process today.

Step 2
We Ship Within 24 Hours
Our dedicated warehouse team promptly handles your order, ensuring secure packaging and swift shipment to your address.